Limon - Caribbean
Vistacr@yahoo.com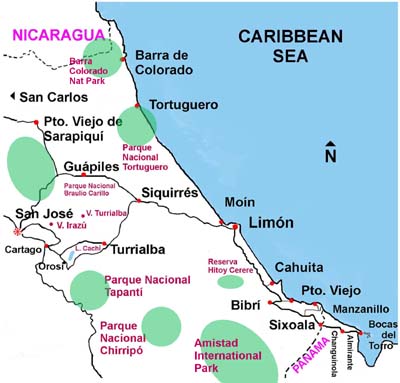 PTO. VIEJO DE SARAPIQUI- Jungle cabin hotels nearby, Boat transport to Barra de Colorado, Tortuguero, Rio San Juan, and Nicaragua, Banana plantations, Rain Forest, Horses, Bird watching. Selva Verde 766-6077 Rara Avis 764-3131 BANKS, HOTELS, TOURS, RESTAURANTS, CANTINAS, GAS, BUS, BOAT.
BARRA DE COLORADO, Barra de Colorado N. Park- Fishing capital, nature tours, airport turtles July-Sept. Jungle Lodge 233-0133
TORTUGUERO, TORTUGUERO Nat. Park, - Accessible by boat or plane, exquisite animales and rain forest, marine turtles, go alone or by tour from San Jose, sportfishing packages. HOTELS, RESTAURANTS, CANTINAS, TOURS, TRAILS, BUS, BOATS, CANOES, FISHING BOATS, AIRPORT. Mawamba 223-2421
LIMON, MOIN- Principal port in Costa Rica, many cantinas, rum, avoidable "misunderstandings". Access to Isla Uvita and Tortuguero by boat from Moin. To the south by bus, taxi, or car are beaches, rain forests, and Indian reserves. Additionally, there are many banana and cocoa plantations. Maribu Caribe 758-4010 BANKS, HOTELS, HOSPITAL, RESTAURANTS, CANTINAS, SUPERMARKET, GAS, BARS, BUS, MERCADO CENTRAL, IMMIGRATION, CUSTOMS.
GUAPILES- Bus transport center to Limon and San Jose. Plenty of hotels, tours on rivers for white water rafting or just scenic views. There are both rain forests and cloud forests depending on the elevation in this area. Very tropical, many animals and birds. GAS, BUS, TOURS, BOAT TOURS, RESTAURANTS, HOTELS, SMALL TOWN. Suerre 710-7551
CAHUITA, CAHUITA Nat. Park- Tropical Forest, marine coral, lovely beach, international population. Fantastic rain forest and some coral reefs. Creole population. HOTELS, BUS, RESTAURANTS, TOURS, TRAILS, SWIMMING, DIVING, SNORKLING, 755-0213
SIQUIRRES- Mostly rain forest, borders on cloud forest in upper hills. Lots of rivers, banana aned cacoa plantations, birds, and forest animals. GAS, HOTELS, CLINIC, TOURS, PLANTATIONS, RESTAURANTS. 768-8113
PUERTO VIEJO DE TALAMANCA- Tropical rain forest, Surfing, beautiful beach, surfing, international population, Indian and Creole culture. HOTELS, CAMPING, RESTAURANTS, BARS, TOURS, BUS, TRAILS. Hotel Maritza 750-0003
PLAYAS COCLES 234-8055, UVA 750-0181 , MANZANILLO 272-4175- Beautiful zone newly develped, access by taxi from Puerto Viejo $4, beautiful empty beaches. HOTELS, RESTAURANTS, BARS, TRAILS, Bus RT-San Jose $30 220-0042
.BRI-BRI- A town of the border of the Indian lands and the vast Amistad p.n. BANKS, HOTELS, RESTAURANTS, CANTINAS, BUS. No Phones
TURRIALBA 556-1596- White water rafting center. CATIE, tropical investigation center tour $25 pp 556-1149. Sugar Cane producton. Near Guayabo Monument, Indian ruins. Coffee cultivation. Bus transportation to San Jose and Siquirres (from there to Limon and her beaches north and south). Rain forest, rivers, bird watching lodge 284-5894, animals. HOTELS, RESTAURANTS, RIVER TOURS, GAS, HOTELS, RESERVES, CANTINAS
SIXAOLA- Border with Panama, frequent national and international buses. HOTELS, RESTAURANTS, CANTINAS, IMMIGRATION, CUSTOMS. No Phones
CHANGUINOLA, PTO. ALMIRANTE, ISLA BOCAS DEL TORO- One hour from Sixaola, cristal waters, scuba, snorkle, swim, lovely beaches, fish, tranquil island. Transportation by boat from Almirante (30 min. - $4) or Air from San Jose ($160 RT). BANKS, HOTELS, RESTAURANTS, BARS, TOURS, BUS, BOATS, HOSPITAL, AIRPORT NATIONAL AND INTERNATIONAL.
RIO PARISMINA- Two bar town that hosts a top-end fishing lodge with all inclusive 3 to 7 day river & ocean fishing trips. Judy 229-7597. CANTINA, MINI-SUPER.
BUSES - * Return Time - SJO is our abbreviation for San Jose
SJO-Puerto Viejo de Sarapiqui: every hour, 6am - 4:30 calle 12, avda 7-9
SJO-Puerto Viejo de Sarapiqui (via Rio Frio): every hour, 6am - 4:30 calle 12, avda 7-9
SJO-Limon: every 1/2 hour, 6 am - 4 pm, 223-7811 avda 3, calle 19-21.
ATLANTIC TERMINAL - CALLE CENTRAL, AV 15-17
SJO-Limon: every 1/2 hour, 6 am - 4 pm 256-4248
SJO-Sixaola: 6,10, 1:30, 3:30 * 6, 11, 1, 3
SJO-Guacimo: every 1-1/2 hours, 5:30am - 7 pm - 710-7780
SJO-Cariari: 6:30, 9, 10:30, 1:30, 3, 6 * 5:30, 6, 8, 11, 1:30, 5:30
SJO-Almirante (Panama): 5 am * 9 am Limon-Siquirres: every 1/2 hour
SJO-Pto. Viejo de Talamanca-Manzanillo: 4 pm, 257-8129
Limon-Cahuita-Pto. Viejo Talamanca-BriBri-Sixaola: every 2 hr
Pto. Viejo de Sarapiqui-Siquirres-Limon: 6, 10, 1, 3, 5 * 7, 11, 2, 6.
Back To Home Page
San Jose
Central Zone
Guanacaste/ Nicoya NW Pacific
.
North Zone
Central and South Pacific
Magazine Advertising Information
Vistacr@yahoo.com
.